Dialogue Menu


Allows you to start a dialogue and get new useful information regarding quests and the plot.

Allows you to make a request, assignment, or give a task to the character. You can conclude a deal, or find out its result.
Allows you to see dialogue options related to alcohol and various minigames.

Allows you to purchase various goods from characters, and discuss those goods.

Allows you to interact with the character's outfit and discuss their appearance.

Allows you to give the character any item from your inventory.

Ends a conversation with a character and forces him to leave you.
Office

The following items can be right clicked to save time/effort:
Office Door

If someone is at the door (the middle will be green) then they automatically enter

If no one is at the door then you will advance to the map screen

Bedroom Door

If there is a visitor in the schedule today, the time will rewind until he arrives

If there are no more visitors for today, time will rewind until the next morning.

Clock - rewind time forward one hour

Fireplace - lighting the fire

Curtain - open and close

Window - open and close

Pensieve - Quick Save
Journal
Your objectives will be displayed in the Journal, on the appropriate tab. Following these is key to progression in the game, unless you prefer reading the text which should provide adequate information to progress without using the objectives.
Here you will find notes, these are temporary notes that will change with progression. They provide supplemental information for parts of the game that are not as refined as they should be...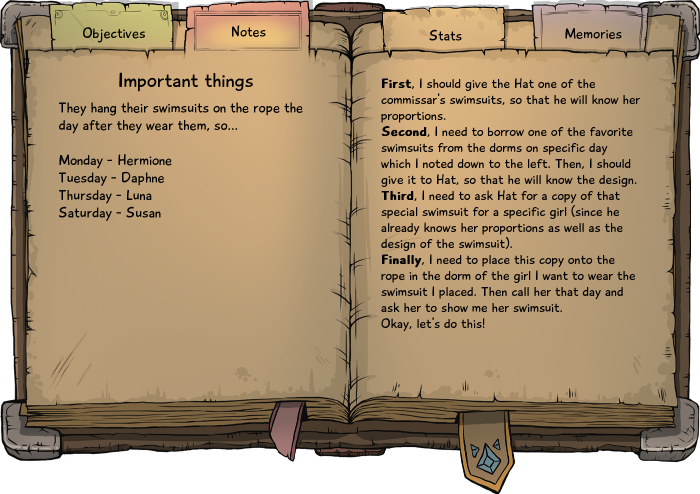 The left side contains information about the current level of each stat. On the right side, you can acquire special abilities for investment points. 1 investment point is earned per stat level gain. After acquiring special abilities, their icons will be displayed on the left side of the screen. Click on it to use it.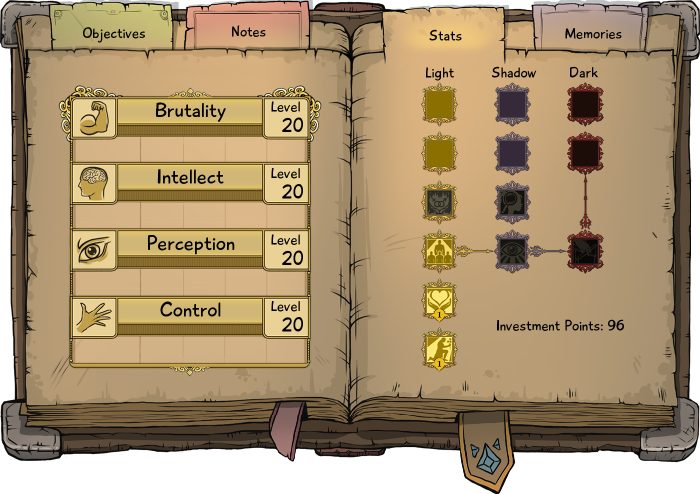 This is a list of all unlocked scenes, should you be a Patron, we provide a persistent data file which unlocks these all for you.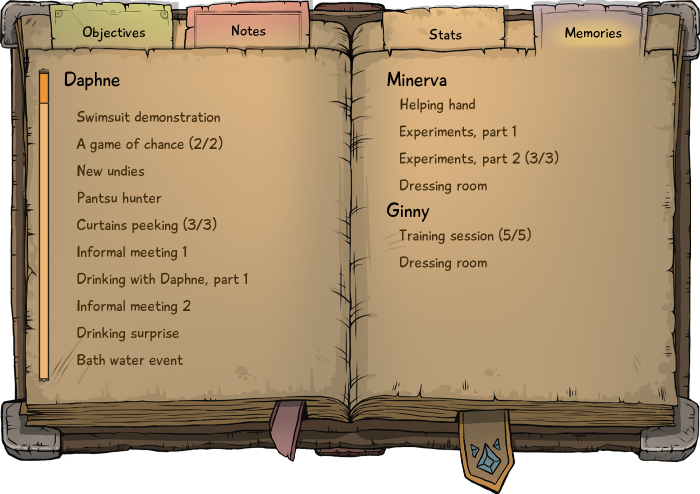 Desk
Map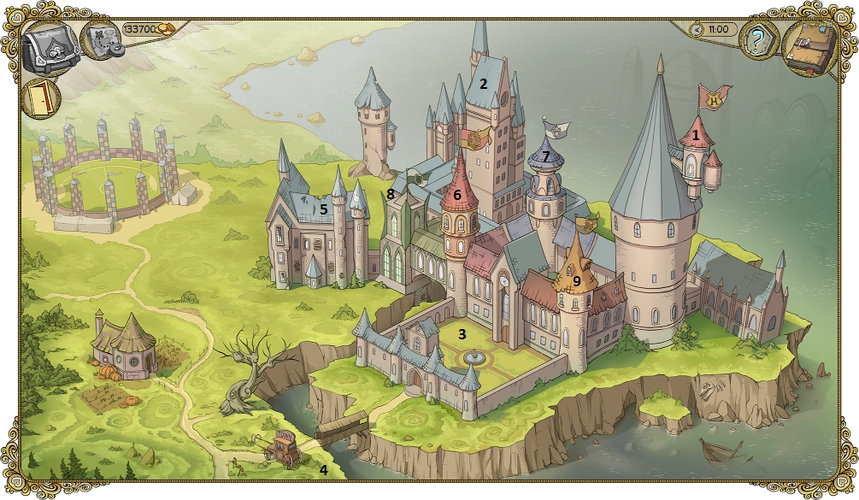 The map can be used to travel to the following locations within and around Hogwarts.
Clock and Calendar